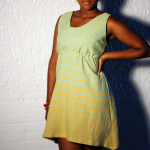 students worked with Xoomba's organic cotton
August 10, 2012
I just finished up with a fantastic two week summer college course in Ecofashion which was super busy and productive for the 8 students who waded through the demos, discussions and hours of lab time toward final completion of their sustainable fashion look. (Student work here photographed by Rahmeik Bowen). These students came from near ( 4 from Syracuse ) and far (one from Texas wasn't disturbed by the high temperatures we endured all week!) and by the end of the course were collaborating on photo shoots, make up and presentation ideas as a team.
On the last Friday afternoon we gathered in Schine Student Center for a fashion showing and eco education time that we shared with parents and others. We heard a segment of last year's live presentation by Heather and Nils Chaplet, the eco entrepreneurs behind the West African organic cotton cooperative, Xoomba–about economic challenges in Burkina Faso and their progress building an organic-only spinning operation to complement the fabulous weaving heritage of the region.
Then the music came on and we had a student modeled fashion showing of the design work, followed by short presentations about the different sustainable materials- pineapple, hemp, vintage rayon, and organic cotton fibers- and the production processes and sources which help to make them more conscious choices for consumers today.
All in all I would say that the majority of students came into the program focused on the fashion side of things but really enjoyed the bonus of the eco education that they helped each other to develop through some rich discussion and conscious thinking. My thanks to these young women for their passionate learning and interest!
August 10, 2012